It's easy being green...
The Phoebus Clean Sweep is back for the third straight year! Phoebus will join up in the spirit of Earth Day and clean the streets. From Mill Creek to Woodland Road and Strawberry Banks to Sherwood Avenue, you'll be working with neighbors from across town who share your vision of a beautiful Phoebus. This year's orientation and post-cleanup afterparty are generously supported by VFW Post 3219 in Downtown Phoebus and Panera Bread.
EVENT INFORMATION:
Saturday, April 29th, 2023 | 9am-12pm |
Orientation 8:30am (VFW Post 3219 Downtown Phoebus)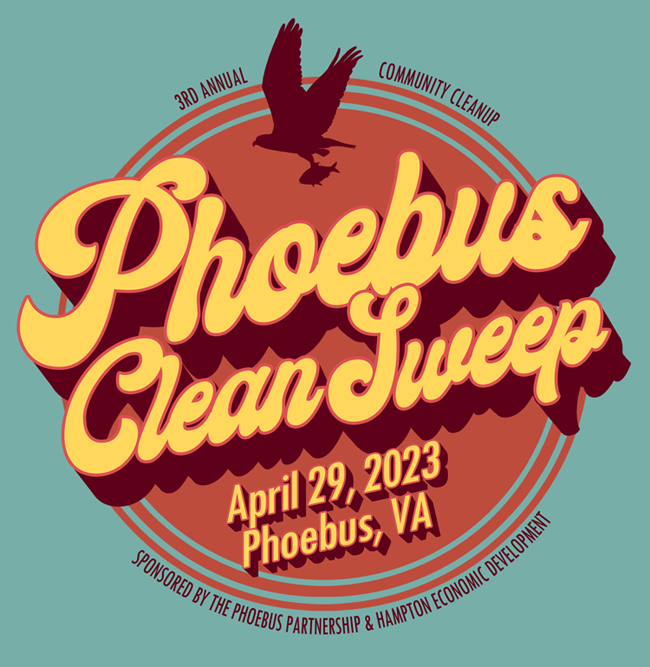 YOU MUST REGISTER TO PARTICIPATE. Please fill out the form using the link below. Registration closes on Saturday, April 1st, 2023. A free commemorative t-shirt will be provided for the first 100 registered volunteers. Cleanup equipment will be provided by the wonderful Hampton Clean City Commission, although if you have your own trash claw you're encouraged to bring it along. Special funding for this program is provided by our friends at The Phoebus Partnership and City of Hampton Economic Development. Please take a moment and thank them for supporting neighborhood-led programs like this one.
HOW DO I PREPARE FOR THE CLEAN SWEEP?
Register on this website at the bottom of the page. ONE PERSON PER FORM. IF YOU ARE REGISTERING A FAMILY, YOU MUST SUBMIT A FORM FOR EACH MEMBER YOU PLAN TO BRING.
If you're attending with a family or organization, please let us know in the "notes" of the form so we can assign you the same street. Remember, you must submit ONE FORM PER PARTICIPATING FAMILY MEMBER. Shirts are limited to 4 per group.
Tell a friend — it's way more fun to clean up together! Kids are welcome!
Wear closed-toe shoes on event day.
Show up on-time at 8:30am at the VFW Post 3219 in downtown Phoebus.
Leave orientation at 9am with your trash picker-upper claw, litter bags, orange vest, and instructions
Adopt-A-Spot groups may clean their regular spots on this day but registration is still required. We will need to know your group is participating, so again, use the "notes" part of the form.

BEFOREHAND - Registration helps us get ready. Send us the info requested on the registration form.

CLEAN SWEEP DAY - The first step is check in! Arrive promptly at 8:30am at VFW Post 3219 in Phoebus and enjoy complimentary coffee, water, and breakfast snacks provided by the VFW. Fill out a waiver form that morning and hand it in. You'll then get supplies and receive your assignment - that is, the location in town for you to clean up. You'll be responsible for getting to and from your cleanup location.

At 9am, you'll go to your assigned spot and pick up any litter you find. Plastic, metal, paper, glass, even cigarette butts! When finished, just leave the tied-up trash bags at the designated location indicated on your assignment map.

AFTERWARD - Return your equipment at 12 noon. If you finish your assignment earlier than 12pm you are welcome to keep collecting trash around town or return early, but don't pick up later than noon because we'll have a raffle drawing sponsored by Phoebus businesses at 12 sharp! So hang onto that number you get at orientation!

POST-CLEANUP PARTY! - After we return our equipment and hold the raffle, we'll be having a post-cleanup party at VFW Post 3219! Our friends at the VFW are serving complimentary hamburgers, hot dogs, fixin's, and water/sodas to all participants. For those over 21, beer will be available for purchase at the bar!

REGISTER BY CLICKING HERE!